Curriculum Vitae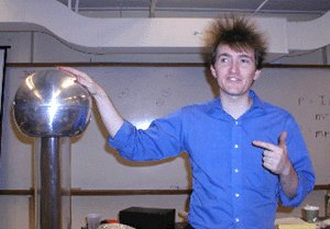 A younger me, back when I
taught
electrostatics.
This website should give you an idea of my varied interests. Hopefully, my work history speaks to my priorities.
My mother is an English teacher and my father a retired civil servant. They helped instill in me an appreciation for my blessings coupled with the importance of giving back. I began my professional life as a high school physics teacher, convinced that teaching would best leverage my interests and skills to make a difference. I've experimented with information technology as a means for improving democratic dialogue, and most recently, I've come to believe that there's something for me to do in the law.
I live in Massachusetts with my wife and son where I work as a data scientist for the MA Committee for Public Counsel Services (public defenders). I also serve as an adjunct professor at Suffolk University Law School. I used to produce a science-themed video series (The Tabletop Explainer), and occasionally I write science fiction under the guise of speculative legal fiction.
Select Publications:
Life, Lawyerist (2016 Short Fiction Contest Winner).
Learning to Code for Lawyers, Lawyerist:
Uncovering Big Bias with Big Data, Lawyerist.
Bureaucrats and Mathemagicians: Data Science and the Public Defenders, Law Technology Today.
ABA's First Hackathon: How a Public Defender Built Due Processr, Law Technology Today.
Eagles for Equality, The Huffington Post.
The Tabletop Explainer, YouTube Partner. (over 5 million views)
Heads in the Clouds, the Coming Storm: The Interplay of Cloud Computing, Encryption, and the Fifth Amendment's Protection Against Self-incrimination, Boston University School of Law Journal of Science and Technology Law.
What if We Don't Raise the Debt Ceiling?, The Huffington Post.
Full-Body Scans v. Nude Screenings: A Back-of-the-Envelope Calculation, The Huffington Post.
Let the Two-Way Conversation Begin, techPresident.
Trading Places, British Council Ezine (Internet Archive cache).
Debunking Brain Gym, Tilts at Windmills.
Phylm, AAPT 127th National Meeting.
Moving Targets, NOVA Online.
In the News. As seen/heard on:
Law (selected coverage)
Design (selected coverage)
10Questions (selected coverage)
Education:
Social Entrepreneurship:

WeJudicate (founder)

communityCOUNTS (founder)

10Questions (co-creator)
Employment:†

Civic:

Select Awards and Honors:
References: On request
† This list does not include all of my contract work.
‡ It saddens me that I once felt the need to include a footnote here. Luckily policies have changed for the better, but this article should explain my thinking.