Curriculum Vitae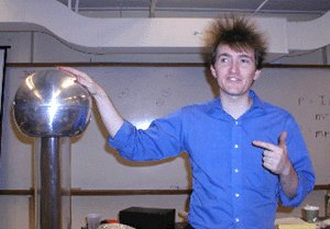 A younger me, back when I
taught
electrostatics.
This website should give you an idea of my varied interests. Hopefully, my work history speaks to my priorities.
My mother is an English teacher and my father a retired civil servant. They helped instill in me an appreciation for my blessings coupled with the importance of giving back. I began my professional life as a high school physics teacher, convinced that teaching would best leverage my interests and skills to make a difference. I've experimented with information technology as a means for improving democratic dialogue, and most recently, I've come to believe that there's something for me to do in the law.
I live in Massachusetts with my wife and son where I work as a data scientist for the MA Committee for Public Counsel Services (public defenders). I used to produce a science-themed video series (The Tabletop Explainer), and occasionally I write science fiction under the guise of speculative legal fiction.
Select Publications:
In the News. As seen/heard on:
Law (selected coverage)
Design (selected coverage)
10Questions (selected coverage)
Education:
Social Entrepreneurship:

WeJudicate (founder)

communityCOUNTS (founder)

10Questions (co-creator)
Employment:†

Civic:

Select Awards and Honors:
References: On request
† This list does not include all of my contract work.
‡ It saddens me that I once felt the need to include a footnote here. Luckily policies have changed for the better, but this article should explain my thinking.