Anaces, Inc. is a small software development firm devoted to the idea that the world can be changed through creative coding–elegant web apps that make a difference. It was founded in 2005 as a response to my frustration with the information management system used by the school where I worked.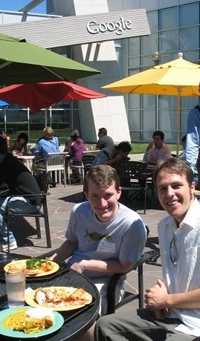 Mmmm... free lunch. A googlicious meal
with my good friend, business partner,
and Googler,
Josh
.
In 2010, Anaces worked with the Personal Democracy Forum to build and host
10questions
, a nation-wide online town hall meeting in a selection of mid-term elections around the nation. The site allowed visitors to ask and prioritize questions for congressional, senatorial, and gubernatorial candidates. We also built and ran a similar site for the presidential election in Brazil called 10Perguntas ("10 Questions" in Portuguese) and a gubernatorial race in Mexico, 10Preguntas.
Since 2005, Anaces has been a part-time project for its founders, Josh Estelle and myself. In that time, I've left teaching for the law, Josh finished his master's and took a job at Google, and we both got married. It's been a busy but rewarding ride.
We're currently in the process of putting together our next big project, and when it launches, you can read about it on our website. Feel free to drop us a line, or give us a call.

WeJudicate: Citizen Coders Serving Justice
Helping provide "justice for all" by building a suite of open source-open API tools for the courts and legal practitioners.

Wandering Stars
A free on-line curriculum aid allowing teachers & students to create and observe their own solar system.

The Tabletop Explainer
Answers to science questions, brief lessons, and ideas for teachers and students.