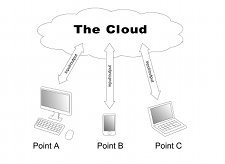 Heads in the Clouds, A Coming Storm
The Interplay of Cloud Computing, Encryption, and the Fifth Amendment's Protection Against Self-incrimination
Heads in the Clouds is what the legal community refers to as a Note, a scholarly article examining some novel aspect of the law written by a law student (yours truly), and I'm pleased to say that it has been published in volume 17 of the Boston University School of Law Journal of Science and Technology Law (JOSTL). The full text can be found on BU's website, but here's a teaser.
In the past, safes have always been susceptible to the locksmith, and third-party hosts of information, such as banks, to the subpoena. New technologies, however, present law enforcement with the prospect that information may be stored in unknowable locations behind unbreakable locks. A number of legal questions are raised by the migration of personal data to the Internet, and although a great deal of discussion has focused on jurisdiction and Fourth Amendment considerations, little has been written about the Fifth Amendment implications presented by such a migration. This is not the case for the more generic migration of personal data from physical to digital media where the use of encryption software restricts access to data, often requiring the production of a password or phrase, implicating the Fifth Amendment's protection against self-incrimination. The testimonial nature of such a production remains an open question of law and so too the extent to which it may be protected by the Fifth Amendment's prohibition on self-incrimination. Currently, a handful of cases addressing this issue are working their way through the federal courts. However, even after these questions are resolved, the consequences of strong encryption upon Fifth Amendment jurisprudence will loom large over the migration of data to what is coming commonly to be known as "the cloud."
David Colarusso, Note,
Heads in the Cloud, A Coming Storm: The Interplay of Cloud Computing, Encryption, and the Fifth Amendment's Protection Against Self-incrimination
, 17 B.U. J. SCI. & TECH. L 69 (2011)(footnotes omitted).

Due Processr
Calculate likely indigency status for MA civil and criminal proceedings based on SJC Rule 3:10 and MGL c261 s27A. Determine sentences based on the MA Sentencing Guidelines.

In Court: A Mobile Web App.
A collection of materials I find useful to have on hand in court: links, resources re-formated for mobile, and interactive aids I call guesstimators. I'm always looking for new material. So give it a look, and drop me a suggestion.

Heads in The Clouds,
A Coming Storm
A Note on the interplay of cloud computing, encryption, and the Fifth Amendment's protection against self-incrimination, published in the BU Journal of Science and Technology Law, Volume 17.

WeJudicate: Citizen Coders Serving Justice
Helping provide "justice for all" by building a suite of open source-open API tools for the courts and legal practitioners.